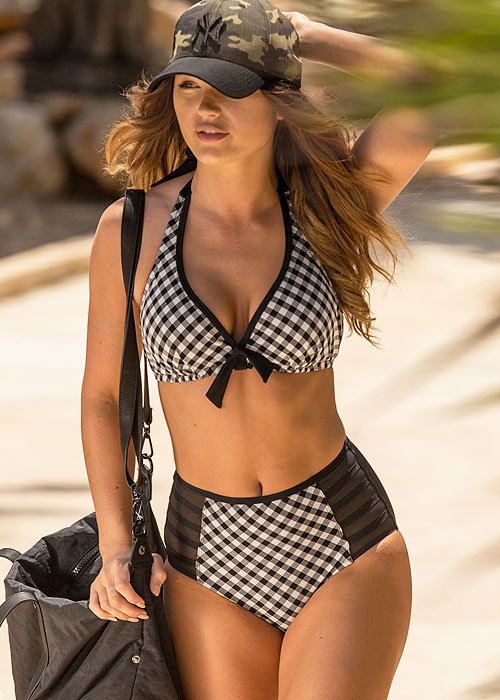 I love swimwear that specifically makes sizes for full busts, but doesn't necessarily "look" full bust. By that I mean, a piece of swimwear that has obvious underwires and a typical bra shape. Most full bust bikinis fall into this category, so I was really loving the Pour Moi Checkers Bikini from retailer UK Swimwear. UK Swimwear is sister site of UK Lingerie, and they carry great brands for all sizes. I really like the fun gingham black and white print of this set, but I also like that the checkered print reminds me of a flag at the finish line. The bikini top has a halter tie, firm band, and hidden underwire. It looks like a regular wireless triangle bikini bra and thats my favorite part! It fits well, and because of the hidden underwire it actually offers lift and cleavage. So cute and fun! The matching bottoms are a high waist brief with checkered panel at the front and back but semi-sheer black mesh side panels with black stripes. The bottoms and bra fit true to size. The bikini top uses UK bra sizing.
There is a oversized black bow at the center gore, not sure how I feel about that, I think the bikini could have done without it, but it's still cute and doesn't detract from the over all look. I like the cut and style of the high waisted bottom, especially the side panels. This set is so fun and not a print of design I see often in full bust sizing. I'm curious to check out more swimwear from the Pour Moi? brand. Special thanks to UK Swimwear for sending me this bikini to review! You can find Pour Moi bikinis and other swimwear brands such as Freya, Gossard, Gotexx and more.
I also tried the Pour Moi Glamazon Bikini which is so sexy and fun and really a fun design for the full bust swimwear market, but it didn't work well for me as the sizing ran small and my nips were super exposed by the fishnet on the bikini top. It might have to do with my breasts being more full on top than on bottom though. Check out all of the full bust bikinis at UK Swimwear, and be sure to check their selection of Pour Moi for sexy fuller bust styles.