Henny Faire Co Candles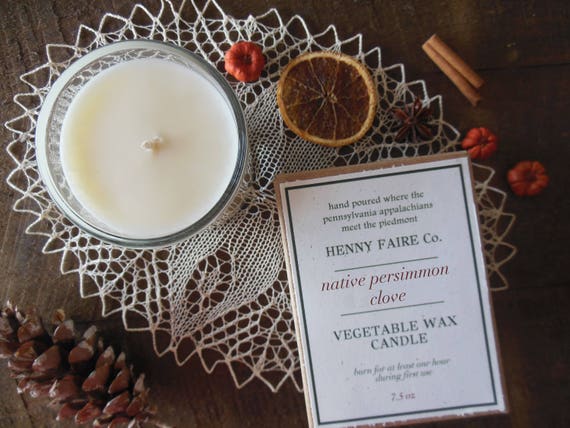 I recently tried a new handpoured candle brand called Henny Faire Co. They create really cute handmade candles, soap and other skincare products. The brand is based in Pennsylvania and has a rustic and quaint vibe about it. The brand has a wonderful backstory about where the brand got it's name, which is a really neat read. The packaging is pretty but also minimalist, allowing you to focus on the products and fragrances themselves. The brand was kind enough to send me a little package of goodies to share on the blog. I tried the French Lavender Fern Candle, and the White Pumpkin Coconut Candle. I also tried a variety of their scents as cute little solid fragrance ornaments! So sweet. Those scents were Native Persimmon and Clove, Red Spruce Vetiver and Wild Currant Rosewood. All of the scents are very nice, nothing smells overpowering, and the notes don't smell fake or of low quality. The candles themselves burn smoothly and are made of pure vegetable wax. The candles come in glass tumblers without any label, which is great for minimalists.
While the Henny Faire collection is ideal for any time of the year, it seems really nice and fitting for the holidays with their gorgeous holiday inspired scents and the pretty and sleek packaging. The brand says that their goods are "wildcrafted" which I really like and think fits well with the theme of the shop. Erica, the owner is super nice and puts a lot of love and care into her products. She offers excellent customer service and answered any questions I had about products very promptly. Henny Faire is named after a woman who really lived in the Appalachia and is stuff of legend. Erica's brand is an ode to this woman and the beautiful scents that tell a story of years ago. The brand also makes baht soaks, body oils, reed diffuser home fragrances and more. They offer comforting scents like their popular french lavender with a touch of fern, and have ore unique scents like Wild Mushroom Tuberose. You can check out the entire collection at Henny Faire Co on Etsy.