Jayde Handmade Wax Melts Review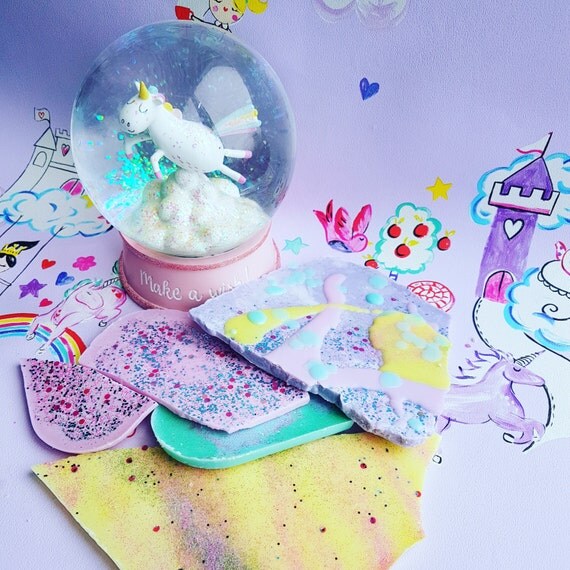 Do you love the smell of candy and bubblegum, or cotton candy and fruit? Then you'll love these wax melts and wax brittle from Jayde Handmade on Etsy. The shop is full of delicious looking wax tart melts and wax brittle in cool scents like Taste the Rainbow, Unicorn Poop, and more. All in a variety of sweet colors and scents to satisfy your nose when you're in the mood for something super fun and sugary. The wax brittle comes in pieces, almost like peanut brittle. The wax tart brittle can be used in your wax burner. The scent wax goods has a great throw, so you can smell it well even when it's not melting in your burner. All of the wax varieties comes in candy coated colors with glitter embellishments, wax drizzles and more. So darn cute! I tried some of the wax brittle along with the adorable wax melt gummy bears.
How cute are they?! They smell sweet and remind me of childhood and adolescence when I used to dowse myself in the candy scented body sprays of the 90s. The little wax melt gummy bears are adorable, a mix of colors all complement each other well and each has a different scent, that can be melted separately or put together in the burner to meld the scents to create a pretty scented adventure of all of the notes. The bears are cute enough to eat, but please don't. The wax brittle is packaged in recycled cardstock resealable bags, and comes with a nice amount of brittle inside, allowing you to melt a lot of wax or a little depending on your mood. So fun! I tried the Soothe Your Soul Wax Melt Gummy Bears which has notes of pink sugared violets and baby lotion. It's soothing and soft but definitely sweet with a hint of floral. I got a cute little sample sized chunk of the Taste the Rainbow variety, which smells just like Skittles! It's definitely an awesome dupe for the scent of your favorite chewy candies. Very fruity and bold! I tried a few bags of wax brittle in Unicorn Poop, Childhood Dreams, Everlasting Gobstopper, Ye Old Man's Rhubarb and Custard, Jayde and the Giant Peach and Get Your Plums out. They all smell really fab. Unicorn Poop smells like fruity creamy candy and lollipops, and has glitter and a variety of colorful pastel wax drizzled on top. Childhood Dreams smells just like bubblegum! So delish. Jayde and the Giant Peach smells so juicy and peachy, and is one of my favorites. Get Your Plums out is really unique and smells of sweet plums and rhubarb. Everlasting Gobstopper smells like a fruity sweet candy concoction sure to make Mr. Willy Wonka proud, and Ye Old Man's Rhubarb and Custard smells creamy like custard and ripe sugared fruit.
The brand is based in the UK and each fragrance scent is created and embellished by hand. They offer fast shipping to the US and their have really great prices too. Be sure to check out these sweet little wax melts from Jayde Handmade!