The MacBath Literary Handmade Soaps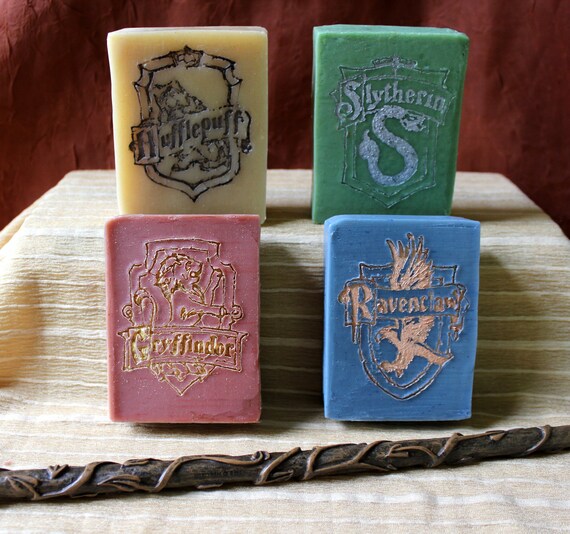 Harry. Potter. Soap.  I'm so excited about these. I found this amazing handmade soap brand The MacBath, that creates literary soaps such as Harry Potter and LOTR. Geeks rejoice! Rachel, the woman behind the brand creates each bath using cold process and natural ingredients like goats milk. These bars of soap are so pretty, whimsical, playful and fun. As for their HP collection, they have a soap for each Hogwarts house, each with a embossed House crest and dusted with shimmery mica. There is also a Scourgify soap, which has the HP spell for clean on it, dusted with mica. The Prefect's Bathroom soap features a mica dusted P like a Prefect badge and it glows under a blacklight! Magic. These are the coolest soaps, and they smell amazing. Everything about this brand is cool. From the name, a cute cheeky play off of the Bard's Macbeth, to the natural ingredients, to the unique designs and scents, to the sustainable packaging. Each bar is wrapped in a cardboard paper slider, with the logo and soap name, it also has the ingredients listed. You can also get the Hogwarts house soaps in a reusable bag with a HP quote too. You can buy the bars separately or buy all of the houses in a set. Luscious ingredients like coconut oil, olive oil, shea butter and goats milk. The cold process is basically what it means to make soap from scratch. No base, no icky ingredients. The process uses lye (which is saponified out) to create a cleaning soap with rich lather and no chemicals like SLS. The oils and fragrance and butter offers a beautiful texture that softens the skin and cleanses very well. Each bar is handcut and handstamped with the design. So much work goes into these soaps, and it's why I love handmade soap so much, it's truly soap at it's purest.
I had to get the Gryffindor soap, because I got that House of the Lion pride, obvs. It's a scarlet red color, and has the house crest with gold mica, using the scarlet and gold house colors. The bars are thick, not flimsy or thin. I suggest using a soap drain/dish that will wick away water so that your soap lasts longer, as handmade soaps can melt faster than soaps full of preservatives and chemicals. You could also use a knife to cut off pieces of the bar, if you don't want to get the entire bar of soap wet, as use as needed. If a bar soap is too large, they also offer guest soaps, which are round and smaller, in most of the designs. I also of course needed the Scourgify soap, because it's one of the most useful HP household spells. Scourgify means to clean, and this bar of soap features the "spell" in Harry Potter font type, and looks so cool. Prefect's Bathroom soap is the most fun design wise, as it's swirled with pink and white and purple and actually glows under a blacklight.
How pretty are these? These soaps are so pretty. I used to buy soap from that one super popular soap store that a lot of people love, you know the one I'm talking about, but honestly, I love this brand so much better. The scents are great, the quality is awesome, and I love the more natural ingredients. The MacBath is one of my favorite handmade soap brands I've tried.
There is also a fragrance description on the back of the packaging for each bar. Gryffindor smells of pepperberry, which is a bit fruity with a hint of spice. It smells so good. All of these soaps immediately made me say "Mmm!". Scourgify is lightly sweet with just a hint of citrus for that squeaky clean feel. Prefect's Bathroom is scented with blackberry and sage, with a top fruity note. The fragrances smell natural and not artificial or overpowering. Good enough to eat (but please don't).
How fun is the glowing effect? I used a mini blacklight to show how the mica shines and the bar gives off a glow under the blacklight. The glowing effect is probably more intense with a proper blacklight, I used a blacklight mini flashlight I had on hand. So magical. I feel like this soap actually came from the Wizarding World. The prices are awesome too, each bar of soap is only $6. They also make shave soaps, which look like the guest soap, but offer extra moisturizing and suds for a soft smooth shave. I got the awesome LOTR's inspired Arwen's Shave Soap, and it smells so damn good. It smells like a bit of spice and a creamy woodsy note. It's a brown bar of soap made with betonite clay, and the top is covered with pink himalayan salt and a dusting of gold shimmer mica. Use the textured side to scrub and exfoliate skin, and use the flat smooth side to create a thick rich lather.
So pretty! You get such a nice amount of soap too. Each shave soap is $3. They can be used on the underarms, legs, all over, for a smooth soft shave. Much better than shave gels full of chemicals or plain soap that can be drying. A great way to get sexy skin before slipping out of the shower and putting on your favorite robe or loungewear!
I'm a huge fan of The Macbath. The soaps are too awesome. I love these, they're so pretty I almost don't want to use them, but luckily theres always more to buy in The MacBath Etsy shop! These would make a great gift for a HP lover, or literary/geek fan, and would be cute party favors or wedding favors. These would make great stocking stuffers for the upcoming holidays too, while supporting a handmade indie business in the process. Check out the entire line of handmade artisan soaps at The MacBath.
You can find The MacBath on Etsy, Facebook, Twitter and Instagram