Lingerie on Film: The 60's and 70's
For the next installment of Lingerie on Film, I've combined the totally funky 60's and 70's, baby! Super groovy. A collection of great lingerie scenes from great films of the eras.
Penelope / 1966
One of my favorites, Natalie Wood, wears super cute lingerie in the 60s film Penelope. This cute little short babydoll is a favorite, with the cute striping.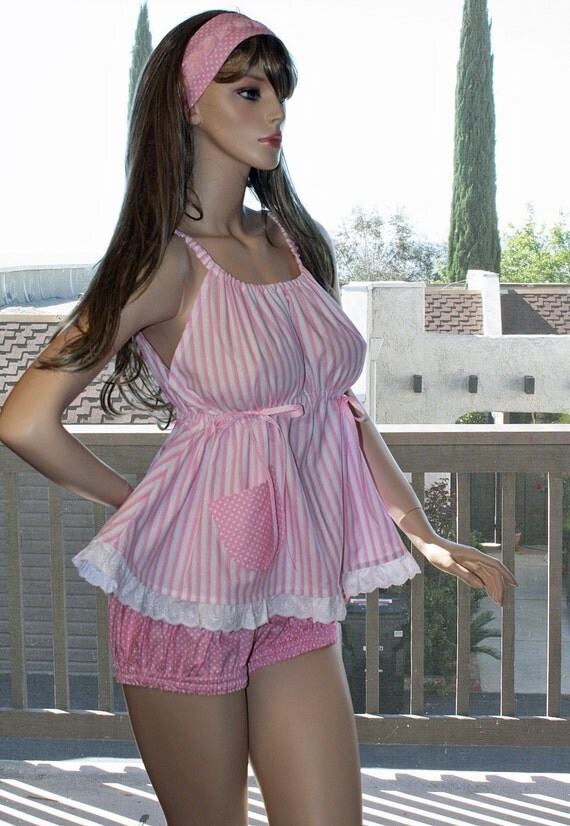 Looking for something similar? Check out this cute Pink Cotton Nightie Set from Olivia and Kate on Etsy. The stripes and the cute two piece style have a retro appeal and the ruffled hem is so cute and pretty!
The Getaway / 1972
Ali Macgraw wears a simple yet cute chemise in this 70's film that she starred in with Steve McQueen.
Looking for something similar? Try this classic Dolce Seta Silk Chemise from La Perla in Shell Pink for a beautiful yet simple updated of a vintage silk slip.
The Rocky Horror Picture Show / 1975
This cult classic is full of lingerie that worn throughout the entire film, but in the Floor Show scene near the end, the entire cast is wearing lingerie and corsets! So I chose Janet's corset get up from that case to showcase.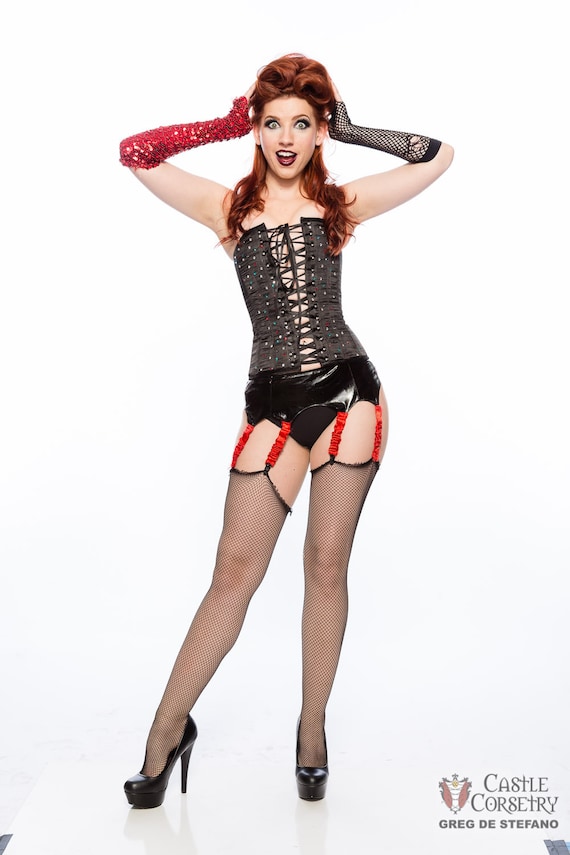 Looking for something similar? The amazing Castle Corsetry makes really cool corsets that look just like the ones worn in RHPS! This Rocky Horror Floor Show Corset is amazing, made to order, and totally looks like the corset in the film. Just add fishnet tight highs, black panties, and suspenders. This corset is great for mixing and matching and can be styled however you like.
The Graduate / 1967
Anne Bancroft wears quite a bit of lingerie from bras to stockings in this cult classic from the 60's, and I adore this leopard print get up that she wears during a scene.
Looking for something similar? Try this gorgeous Tigress Bullet Bra and matching Tigress High Waist Panty from Lucy B Lingerie.
Valley of the Dolls / 1967
This cult classic features lots of pretty vintage lingerie that is both classic for the time and yet timeless itself. Patty Duke's character of Neely wears this cute light blue set during one scene in the film.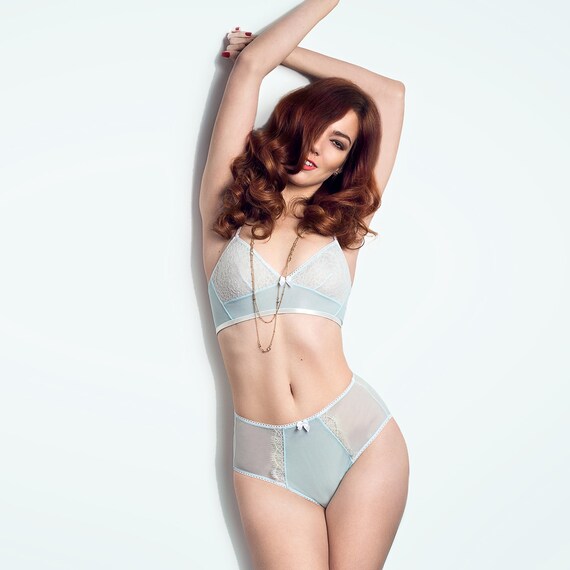 Looking for something similar? Try this updated look with a light blue soft cup Natalie longline bra and matching Natalie high waisted panty from Angela Friedman. The set has a retro feel to it, but is a beautiful modern version. Sparkle Neely, Sparkle!
Carrie / 1976
I've always thought that Carrie's beautiful prom dress reminded me of a vintage chemise or nightgown, with it's beautiful sheer pink color and triangle cups, so even though it's worn as a dress in the film, I'm featuring it because it reminds me of lingerie too.
Looking for something similar? Try this cream colored full length Goddess Gown from Christine Lingerie. So pretty yet simple and a classic. Pair with your favorite sheer shawl to complete the look!
Butterfield 8 / 1960
One of Liz Taylor's famous lingerie scenes in her career comes from this film, and this gorgeous chemise that showed off all of her curves.
Looking for something similar? Try this updated version of a romantic chemise with this pretty Le Tresor Silk Chemise from Julianna Rae.
Marriage Italian Style / 1964
I still swoon over this gorgeous black night gown that Sophia Loren wears in this film from the 60s. So gorgeous and great detail!
Looking for something similar? While it's not a gown, this gorgeous boudoir French Quarter Robe paired with the matching French Quarter Pasties, French Quarter G String, and the French Quarter Ouvert Frame Bra by Dollhouse Bettie create a beautiful updated look.
Psycho / 1960
We see Janet Lee's character in a few different bras, my favorite being this black bullet bra.
Looking for something similar? Try this Floral Flirt Bullet Bra by Lucy B! Add the matching Floral Flirt Girdle to complete the look.
West Side Story / 1961
Rita Moreno's character in this musical is putting on black stockings and wearing a black chemise in this scene during the "Tonight" reprise.
Looking for something similar? Try this gorgeous satin and lace Black Swan Chemise from In Bloom by Jonquil. Just pair it with your favorite black stay-ups to complete the look!
Flower Drum Song / 1961
This popular musical from the 60s features Nancy Kwan is gorgeous lingerie in the I Enjoy Being a Girl scene including this pretty silk get up.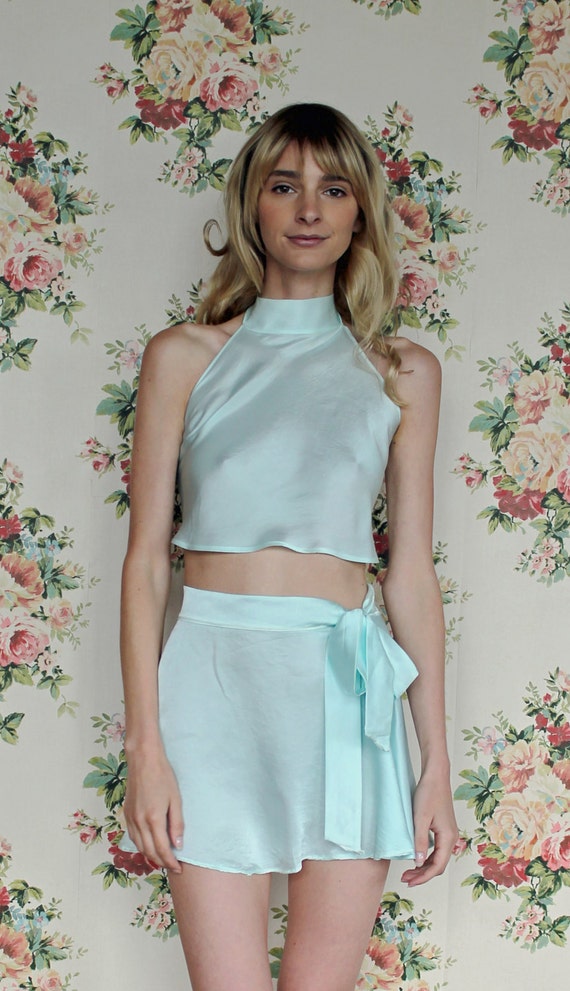 Looking for something similar? While this cute Silky Halter Top and matching Lingerie Skirt set from Danielle Wood isn't strapless, but it has a fun halter detail and looks so comfy as lingerie and loungewear, while still being silky smooth and feminine like the outfit in the film. Also available in white.
Breathless / 1960
The french film Breathless, which got an American remake in the 80's, features a comfy looking sleepwear set in it's original 1960's version. We see a striped tee and sleep shorts. Comfortable and light.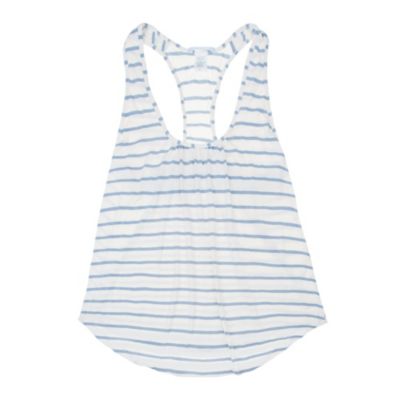 Looking for something similar? For an update on this comfy classic, try the Lounge Stripes Racerback and the Baxter Shorts from Eberjey.
Bonnie and Clyde / 1967
Faye Dunaway wears some great vintage fashion in this classic film, and I love her tank in this one scene, though it's not definitely lingerie, it's a camisole and looks very much like lingerie worn as outerwear.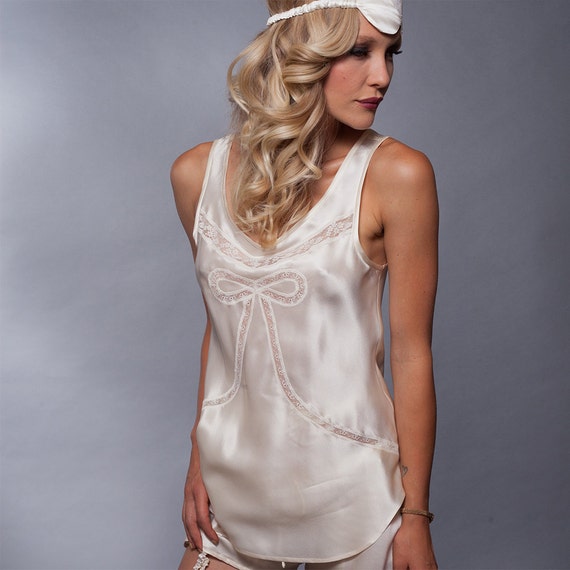 Looking for something similar? Try this updated look with Honey Cooler Handmade's (soon to be Evgenia Lingerie) Deco Camisole. The silky material and the delicate bow design looks like a modern version of what the Bonnie character wears in the film.
————————————–
What are some of your favorite lingerie scenes from movies in the 60's and 70's?