Lingerie on Film: The 40's and 50's
For this installment of Lingerie on Film, we're visiting the 40's and 50's! You'll find lingerie scenes from movie favorites and silver screen ladies like Marilyn Monroe, and bondage burlesque queen Bettie Page!
Don't Bother to Knock / 1952
Marilyn Monroe wears a gorgeous boudoir robe in this film, pictured above.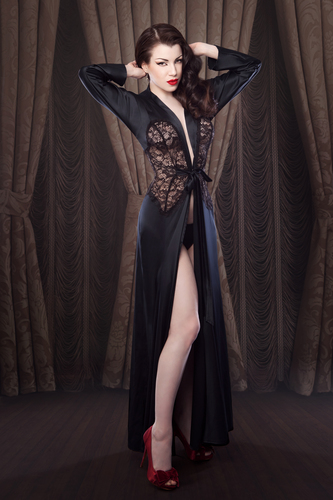 Looking for something similar? Try the Nell Robe from Betty Blue's Loungerie, which is based on the design in the film and is even named after the character Marilyn plays in the film!
Cat on a Hot Tin Roof / 1958
Liz Taylor stuns in this gorgeous white cotton slip from the 50's in this classic film based on a play.
Looking for something similar? I really like the vintage look of this simple classic slip. The Snip-It Slip from Shadowline gives the southern charm and appeal of the slip from the film, featuring a smooth silhouette and beautiful shape.
Sunset Boulevard / 1950
Gloria Swanson wears this stunning luxurious black robe in this classic film from 1950.
Looking for something similar? This luxe over-sized Karina Velvet Kimono Robe from In Bloom by Jonquil is a beautiful modern take on the classic boudoir robe.
The Little Hut / 1957
Ava Gardner wears this super cute strapless lace romper in this film from the 50's!
Looking for something similar? This super sexy Juliet Plunging Black Lace Teddy from Dollhouse Bettie isn't strapless, but it really makes a lovely modern version of the romper from the film.
Niagara / 1953
Marilyn wears this simple yet lovely pink chemise slip and beige stockings in this scene from this 1950's film.
Looking for something similar? Try this Celeste Chemise in pink by Farr West. Pair it with your favorite pair of beige stockings to complete the look!
Roman Holiday / 1953
Audrey Hepburn wears this adorable and comfy looking cotton full length night gown in this movie classic.
 Looking for something similar? Try this modern classic Pomina Longsleeve Nightgown by Thea. Simple and cozy!
Teaser Girl in High Heels / 1950
One of Bettie Page's first burlesque films, features her in this lovely black lingerie set with a black bullet bra and high waist black bottoms and sheer black stay ups.
Looking for something similar? How about this super cute Grace Half Lace Satin Bra and matching Isabella Black French Knickers by Joanna's Wardrobe. Cute and modern with a definitely vintage flair.
Pillow Talk / 1959
The lovely Doris Day wears this super cute blue and white cotton babydoll nightgown during this scene from Pillow Talk. So cute and vintage!
Looking for something similar? This blue modern Seashore Capsleeve Babydoll from Katerina Nis is so cute and makes a great modern style of a babydoll with a vintage flair.
Meet Me in St. Louis / 1944
Judy Garland's character Esther gets her corset tightened by her screen sister Rose in this pre-party scene from this classic 40's film.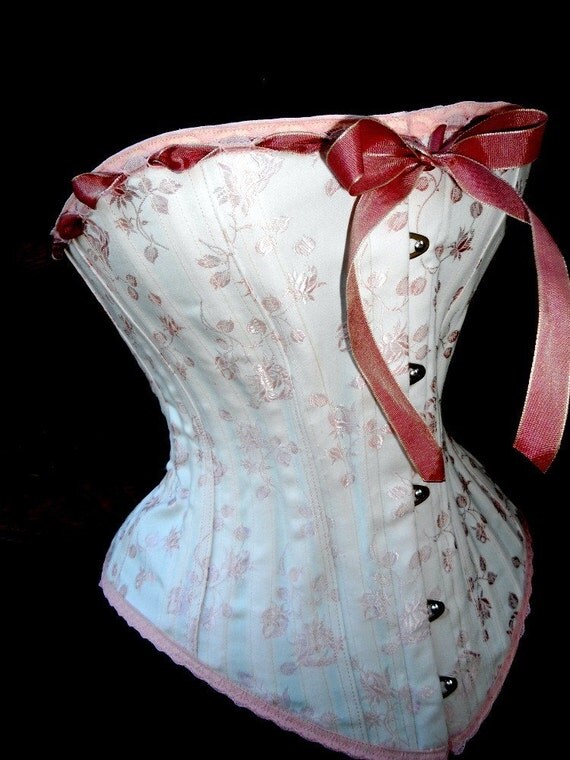 Looking for something similar? This beautiful Pink Corset from La Bella Fairy on Etsy offers a vintage style similar to the film, but is also modern enough for wear and waist training today. Each corset is made to order to your measurements.
Gilda / 1946
Rita Hayworth plays the gorgeous and feisty Gilda in this 1940's film and wears this gorgeous sheer boudoir gown at one point with a wrap belt.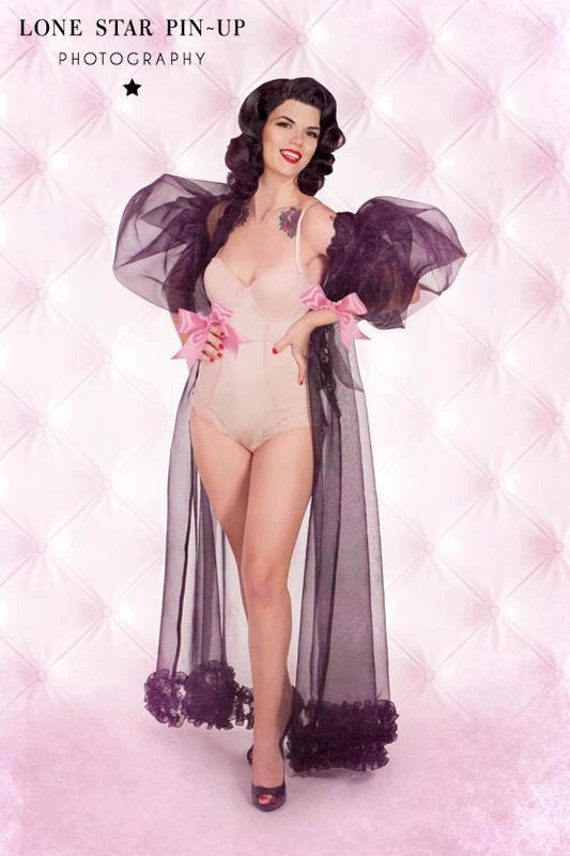 Looking for something similar? This gorgeous Beautiful Peignoir Robe from Sew She Said is made to order and can be made in white, pink, or even black. I like how the vintage style is similar to the gown that Rita wears in the film. Simply tie the robe closed and let the shoulder hang off one arm to complete the look.
—————————————–
What are some of your favorite movies from the 40s and 50s that feature lingerie?