Lingerie on Film: The 2000's Movie Collection
Lingerie is featured in film a lot more, especially within the last decade or so. Lingerie is becoming more mainstream in movies, so you'll find a wide variety of genres that feature Lingerie on Film in the 2000's.
American Hustle / 2013
Jennifer Lawrence wears a simple white stretch bodysuit in American Hustle, and even though this film takes place in the 70s, some pieces are fashion are staples, such as this basic white bodysuit.
Looking for something similar? Check out this Second Skin Thong Bodysuit from Only Hearts looks a lot like the bodysuit that JLaw's character wears, but the thong back makes it a slightly more modern design.
Romance & Cigarettes / 2005
Kate Winslet stars in this funny movie filled with music, and her character even works in a lingerie boutique in the film! She rocks a bra and a skirt in one of the musical scenes.
Looking for something similar? I couldn't find a complete match for Kate Winslet's Tula character's pink printed bra with bronze lace at the top, but this brightly colored Anguilla Darted Underwire Bra from Whimsy by Lunaire. I like the pretty bright pink and printed color and shape.
13 Going on 30 / 2004
One of my favorite actresses, Jen Garner plays a totally fun character who wished to be 30 on her 13th birthday! The opening scene of her after her wish, features her in a colorful sleepmask and a rose colored chemise.
This modern take on the rose colored lace lined chemise from Julianna Rae is lovely. The Le Tresor Silk Chemise is gorgeous, slinky, and you could totally layer this with heels and a blazer or jacket like Jenna Rink does in the movie, for a fun take on an updated 90's fashion! Pair it with a colorful sleepmask for a fun pop of color!
Marie Antoinette / 2006
The film loosely based on the life of Marie Antoinette featuring Kirsten Dunst. Oh the corsets and the lovely costumes. One scene Kirsten is wearing nothing but a hand fan, and knee high stockings with blue ribbon bows.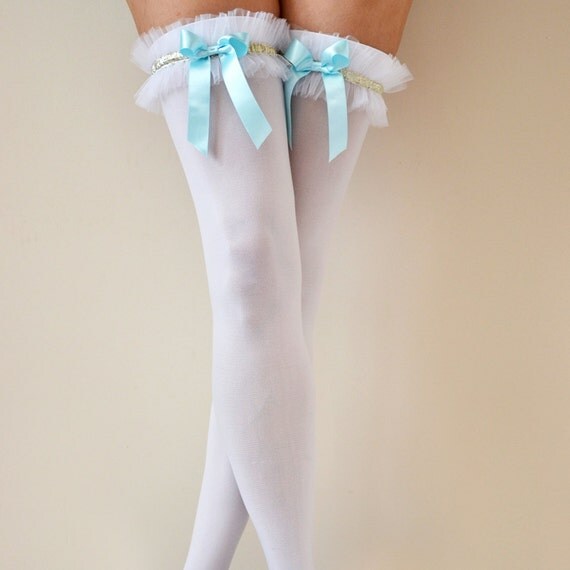 Looking for something similar? Try these luxury stockings from La Lilouche. They're opaque white stockings with blue ribbon bows, as well as tulle ruffles and gold fabric embellishment. These handmade Lola Stockings make a great modern take on the stockings in the film.
We're the Millers / 2013
This newer film features Jennifer Aniston wearing a bra and boyshort set in a beige colorway. Pretty modern and easy to find a set that is similar and a comfortable yet luxury set.
Looking for something similar? Try this gorgeous Merci Half Cup Bra and matching Short from Chantelle. It is similar in color and this set has texture as well.
The Brass Teapot / 2012
The lovely Juno Temple stars in this dark comedy, and wears many pieces of lingerie throughout the film. My favorite being this basque with stockings in a black and pink colorway!
Looking for something similar? This pink and black corset from Ann Summers is cute and features black ruffles on the bottom, and striping down the front of the basque, with bows. This cute Dotty Boudoir Corset that looks similar to what Juno wore in the film. Simply add your favorite suspender belt underneath, and add a pair of black stockings!
Swordfish / 2001
Halle Berry rocks a lingerie set in the 2001 film Swordfish. The set itself is pretty basic but sexy, and we can find lingerie sets that are very similar today.
Looking for something similar? Try this Rive Gauche Demi Bra and matching Brazilian Panty from Chantelle.  A fashionable updated set made of black lace with a brazilian high cute panty and black lace demi cup bra.
Layer Cake / 2004
Sienna Miller rocks this lacy get up in the film Layer Cake, showing panties, suspender, stockings, and a strappy bra. This set can be even more modern with a few pieces I found below, while still staying pretty true to this style.
Looking for something similar? This updated strappy detailed set from Pour Moi? is a great sexy modern version of the set that Sienna's character wears. The Addicted Half Cup Bra, G-String, and Suspender makes a great set! Pair it with your favorite black stockings to make it a full set.
X-Men First Class / 2011
January Jones plays the rock hair diamond telepath Emma Frost, that works with Magento in the X-Men prequel (that is supposed to take place in the 70s) and she wears lingerie in a few scenes, including wearing this full white set.
Looking for something similar? Try this gorgeous Super Boost Lace Deep Plunge Bra paired with the matching Super Boost Lace Short and Super Boost Lace Suspender from Gossard. A sexy all white modern version of the lingerie set that Emma Frost wears in the film.
The Runaways / 2010
The Runaways movie based on the first all girl rock band The Runaways, features Dakota Fanning as Cherie Currie. They created an identical corset to the one that Cherie famously wore in the 70s.
Looking for something similar? Supposedly Trashy Lingerie in California made this corset that is worn by Dakota in the movie and they also sell it in their shop. The Cherie Corset is available for order online.
I Give It A Year / 2013
Rose Byrne rocks a Mimi Holliday set in this current movie that came out last year. So this bright pink and yellow set is probably quite familiar to you if you're a lingerie addict.
Looking for something similar? How about an exact match? Rose's character is wearing the Kamikaze Balcony Bra and matching panties from Mimi Holliday!
RENT / 2005
One of my favorite broadway musicals, not one of my favorite movie adaptions though. Rosario Dawson plays the role of Mimi and this shimmery lingerie set is the stand out lingerie piece in the movie.
Looking for something similar? Try this EgoBoost Sequin Bra from Gossard, and these handmade Catriona Panties from La Lilouche. A cute and sparkly updated version of the set in the movie. Pair it with a pair of fishnets to complete the look.
Heartbreakers / 2001
Sigourney Weaver plays the mother in this comedy film about a love sabotaging mother-daughter duo who tries to swindle suitors out of their cash. Her character wears a blue lace body stocking with a corset style bodice.
Looking for something similar? Try updating this look with a modern luxury lace bodysuit. It's not a bodystocking and doesn't have a corset or boning, but it has beautiful buttons up the front of the bodysuit and it's a nice light blue color. This Opaline Bodysuit from Sonata Lingerie is gorgeous and offers a current style.
Sin City / 2005
Theres quite a bit of lingerie in this black and white comic style noir film, but Jessica Alba in this bra is probably one of the most popular scenes in the film involving lingerie.
Looking for something similar? The bra in the movie is supposed to fit into a cowgirl type of fashion, so it features studs on the cups. However, the shape of the bra is really similar to this Tempest Rose Bra from Kiss Me Deadly.
Grindhouse Planet Terror / 2007
Rose McGowan wears this red and black striped bra in Grindhouse, in just one of her scenes that involve lingerie.
Looking for something similar? The Charlotte Balconet Bra from Affinitas Parfait in red and black, offers an updated striped style. It's striped and offers a supported look that would makes a nice modern take on the striped bra.
Watchmen / 2009
Carla Gugino plays Silk Spectre in this comic to film adaptation, and she rocks vintage styled lingerie. I like this pretty yellow and black look.
Looking for something similar? This look can be given a modern makeover layered different lingerie pieces. I would suggest the Deco Strapless Bra from Freya that offers lift and support, underneath the yellow Peplum Dress from Made by Niki, and the Underbust Leather Corset from Orchard Corset on top. To complete the look, pair it with your favorite black panties and suspender belt and fishnet stockings. If you want to add gloves, try the Madeleine Satin Evening Gloves by Cornelia James.
————————————-
What are some films from the 2000s that feature lingerie that you like?