Lingerie on Film: The 90's Movie Collection
I was thinking about lingerie in film lately. I notice lingerie in movies a lot more now that I'm a lingerie blogger than I did before I began blogging about it. I decided to break films down by decade and scour films from the 90's for this first edition of Lingerie on Film. Here you'll find all kinds of lingerie in all genres of films from the 90's! So grab your mocha berry lipstick and your hair scrunchies, and let's browse some lingerie on film.
Wild Things / 1998
Denise Richards wears a lacy white bralette in one scene in the movie Wild Things. The bralette features what looks like a fairly feminine design with lace trim and a triangle bra design.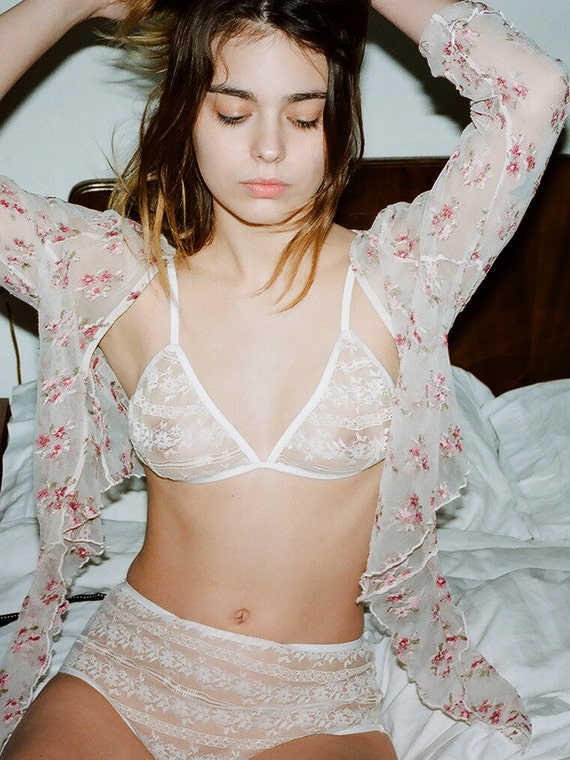 Looking for something similar? Try the Lovely Lace Cream Bralette from Miss Crofton, pictured below. The Miss Crofton bralette is light and comfortable looking and has a feminine floral print on the cups.
True Romance / 1993
Patricia Arquette plays the always fabulously dressed Alabama, and this aqua blue bra is probably one of the most popular images of her in lingerie from the film. The bra features lace cups in a balconette style bra.
Looking for something similar? Check out the Duet Lace Demi Bra from Timpa. The teal color and the textured unlined cups creates a great modern twist on this 90's style bra.
American Beauty / 1999
Thora Birch played the self body snarking angst ridden teenager in love, and in one scene she wears a lavender bra as she looks through the window while the new neighbor watches her too.  The bra is pretty basic and probably pretty typical of a teenager in the 90's.
Looking for something similar? This Icon Perfect Push Up Bra from Calvin Klein offers more lift and support than Thora had from her bra in the film, but the color is very similar, so this is a great modern version of her character's bra in the film.
Titanic / 1997
This movie is full of fun vintage designs, and Kate Winslet wears them well. This robe, has to be my most favorite piece of lingerie in the film! The robe is made of gold and black and features long cocoon style sleeves. So gorgeous!
Looking for something similar? This gorgeous 1915 style cocoon French Quarter Robe from Dollhouse Bettie. The style is very similar to the robe that Kate Winslet's Rose wears in Titanic, however this robe is made of a sheer lace poly material, so while the style is right the color and fabric is a bit off. If' you're looking for the black and gold colorway, you could also try the luxury Luxe Boudoir Robe from Christine Lingerie.
Cruel Intentions / 1999
SMG's role of the super wicked Kathryn wears lingerie a few times in the film, but my favorite is this black cotton corset and the dark coral bra, which she layers and pairs with black pants and heels for an outerwear look.
Looking for something similar? This basic Longline Underbust Corset in Cotton from Orchard Corset, paired with this Almost Famous Shoelace Bra from Made by Niki. the corset looks very much like the one that the character wears and the Made by Niki bra offers texture and color similar to the bra in the film in a modern design.
Romeo is Bleeding / 1993
Lena Olin plays a sexy psychopath mixed up with dirty cops and she's basically the drug kingpin in this classic and underrated 90's flick. She wears lingerie quite a few times in the film, but my favorite is this full bodysuit she wears over a black bra.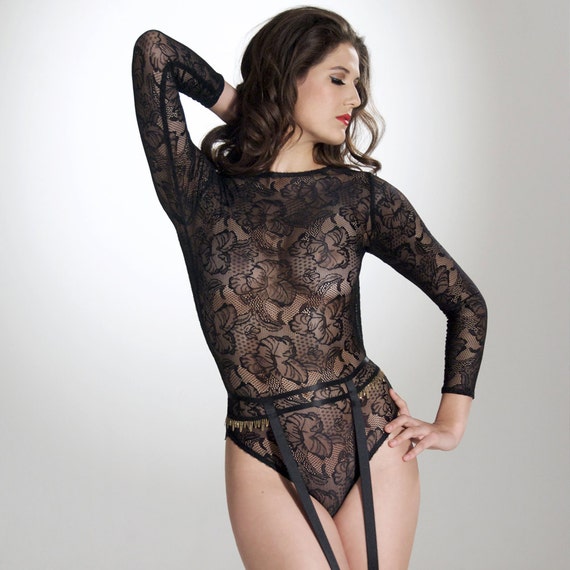 Looking for something similar? Check out this gorgeous made to order Sexy Lace Bodysuit from Nearer the Moon. This bodysuit features a semi-sheer design with an interesting floral design, long sleeves, and an open back. This design is definitely a super sexy modernized version of the one that Mona Demarkov (Lena Olin's character in the film) wore.
Bound / 1996
Jennifer Tilly wears this black chemise with lace at the bust in the movie Bound. While it's not a super unique design, it's easy enough to find a suitable modern take on this design. Jennifer proves that lingerie can be basic and sexy.
Looking for something similar? This black Phoebe Chemise from Ophelia King has lace at the bust and at the waist and is a great alternative and adds a bit more flair to a classic black lace trimmed chemise.
Empire Records / 1995
Liv Tyler was the epitome of cool in Empire Records, and I'm loving her mix-matched lingerie! She wears a red bra and white briefs.
Looking for something similar? This basic June Brazilian Brief paneled panty from Passionata is a great updated look for the white undies Liv sports, and the modern design of the Arpege Magic Air Mini Bustier Bra from Huit is both cute and adds a fashionable quality to a simple red bra.
Jawbreaker / 1999
They killed the teen dream! The girls in this movie are all sorts of manipulative yet oh so fashionable. The movie does however show Rose Mcgowan in a cute pink babydoll.
Looking for something similar? This Tea Garden Chemise from Elle Macpherson is a mix of sexy and playful, similar to the babydoll design worn by Rose McGowan's character in the film. This chemise has an undated design a color, but still has a touch of playfulness and a youthful design.
Pretty Woman / 1990
Possibly Julia Roberts most famous role and definitely the one who put her on the map there are a few scenes of her character wearing lingerie such as a chemise, and bra, but I really like this bra and panty set she wears.
Looking for something similar? It reminds me of the Sirena Bra in Platinum from Kiss Me Deadly, pictured on the left. That set isn't available anymore but it's definitely a close match. Another great match, that is currently available is the Amelie Bra from Miss Mandalay, pictured on the right.
Fools Rush In / 1997
Salma Hayek is always gorgeous, and she's funny and charming in this film too. The scene where she married Matthew Perry's character in Las Vegas, she wears this lovely silky chemise.
Looking for something similar? This gorgeous Sophia Bridal Chemise is lovely, slinky, and made of 100% silk with spaghetti straps and lace on the cups. A lovely updated look that is similar to what Salma wears.
Cry Baby / 1990
Traci Lords as the totally fierce and fun sexy Drape girl in Cry-Baby. This shot of her in stockings and a black corselette is in the extended directors cut of the film and deleted scenes.
Looking for something similar? Kiss Me Deadly makes a gorgeous black Vargas Dress corselette and they also have matching Cervin Seduction Seamed Stockings in their shop as well to complete the look. Cry Baby girls love KMD!
2 Days in the Valley / 1996
The ever beautiful Charlize Theron dons a lovely sheer polka dot bodysuit paired with a satin robe, simple and sexy as both lingerie and loungewear.
Looking for something similar? This modern and pretty white Daisy Bodysuit from La Lilouche, is made of sheer white mesh with satin covered crotch, removable garters and instead of polka dots, modern handbeaded flower embellishments. The simply and comfy white satin The Mrs Wrap from In Bloom by Jonquil looks just like the robe that Charlize wore, and would look great paired with this bodysuit.
Waiting to Exhale / 1995
The film Waiting to Exhale has a few lingerie scenes with the various women wearing a bra, or bodysuit, or chemise. I really like this lace balconette bra and black robe and thought it was perfectly 90's but also easy to re-create using modern lingerie styles.
Looking for something similar? Try this beautiful and modern take on the lace balconette with the El Color Rojo Bra from La Perla and this sheer black Kimono Robe from BlueBella.
Austin Powers the Spy Who Shagged Me / 1999
Elizabeth Hurley starred in the totally crazy and psychedelic comedy and had this cute chemise. The style is very 90's, when slip dresses were also worn as outerwear quite often too.
Looking for something similar? This pretty Indulgence Chemise from Julianna Rae is a really beautiful and modern take on the chemise that Elizabeth Hurley wears in the movie. With white floral lace at the bust and a thicker trim at the bottom hem.
The Crow / 1994
One of my favorite movies of the 90's, The Crow mostly features the amazingly gorgeous Brandon Lee avenging the deaths of him and his fiance. There are a few scenes with lingerie including a robe, long gown, bustier, and what looks to be a black babydoll or slip with lace at the bust worn by the troubled character Darla.
Looking for something similar? Try this gorgeous underwire Alexis Babydoll from Affinitas Parfait. The babydoll has lace at the bust and offers support while the design is truly a pretty and modern take on the chemise in the film.
Drop Dead Gorgeous / 1999
This black comedy is one of my favorites from the 90's, about a beauty pageant in a super small rural town and all of the ups and downs as sometime tries to sabotage Kirsten Dunst's character. At one point in the movie, a few of the girls, including Amber (the character played by Kirsten) is changing between acts and is seen in a somewhat vintage style slip.
Looking for something similar? This Champagne Slip from Amelia Thomas is a great pick, because of the cream color and the vintage style of this modern slip. It looks comfy, it's soft and made of 100% silk with lace trim. Made to order in the UK.
——————————————-
Do you have any favorite 90's movies that feature lingerie? If so, leave me a comment below!