Review: Affinitas Parfait Honey Babydoll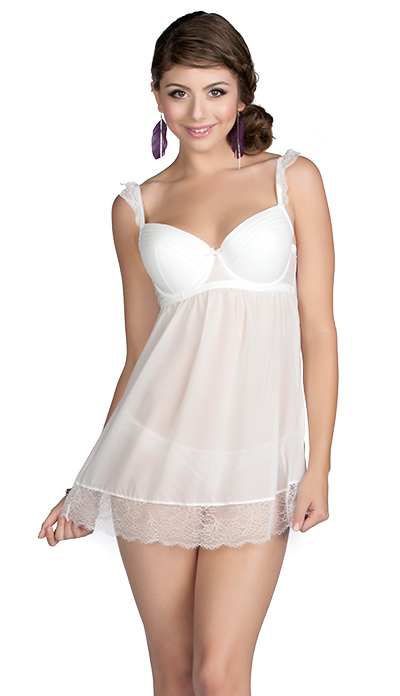 I've had my eye on this cute babydoll nightie from Affinitas Lingerie for awhile now. This babydoll is from their Parfait line, Affinitas DD+ full bust range. The Affinitas Parfait Honey Babydoll is so lovely. It's made of soft chiffon, with lightly padded molded cups, and lace flutter along the bands and hem. It also has matching Honey Bikini briefs that can be purchased separately to make it a set! The Ivory color is very nice, and would flatter all skintones. This would also make a nice and budget friendly piece of Bridal lingerie. This babydoll is sized by bra size, and is available is DD-G cup sizes.
The chiffon body of the babydoll is semi-sheer and very soft with the texture of unfinished lace along the bottom hem of the babydoll, and lining the bra straps of the babydoll. There is a tiny little bow at the center gore of the bra, and the cups have underwire, lightly padded, and feature textured lines along the tops of each cup. So pretty! The cups are supportive, though the bands are a bit thin, so for those who like the added support of thicker bands, this may be a problem. I have full on top breasts that are a bit heavy due to my soft breast tissue, so I prefer a lot of support, and while the bands are indeed thin, it wasn't much of a problem for me.
I really like the panties too. They're made of the same semi-sheer chiffon, with lace detailing along the front and a tiny bow at the waist band. They're really comfortable and the chiffon feels lovely against my skin. They fit nicely and really make a great addition to the babydoll. While I do have Affinitas Parfait sets in my lingerie collection, this is my first Babydoll from the collection and I really like it! It's so pretty and it's lightweight material makes it ideal for the hot summer nights. This piece also comes in a black color if you prefer that to ivory. You can find the Affinitas Parfait Honey Babydoll at retailer's like Linda's Online!